Jam resp. marmalade is a well liked ingredient on many tables, especially for breakfast or tea time. The sweet spread is made mainly from sugar and cooked fruit like berries, oranges, apples and others, depending on season and regional custom. Its French name "confiture" derives from the Latin "conficere", which means "to confect" or "to prepare". Jam and marmelade are also part of the French Cuisine, for example as part of recipies for cakes and as a topping for Crêpes, a culinary speciality of Brittany that is a very thin version of pancakes.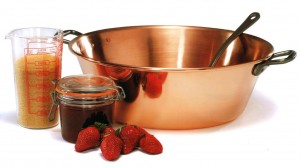 While jam supposedly is the English expression that corresponds best with "la confiture", the word "marmalade" is normally reserved for confiture made from oranges or sometimes other citrus fruit. As a corresponding language situation arises for example in the German speaking part of Europe, a special EU-regulation was established to make sure that the relating word "Marmelade", that has been often used as a synonym for jam, is solely supposed to refer to jam made from citrus fruits.
The cooking of fruits in order to turn them into jam has been a method of conservation in former times and thus made it possible for the people to enjoy fruits even in the winter months, when fresh fruits were usually not available. Nowadays, in the kitchen at home, the preparation of jam has become less a necessity or routine duty than rather a hobby.
Still, individual jam/marmalade production remains an important area of cooking, important enough for producers of copperware to offer kitchenware that is especially suited to these particular requirements.
To mention are for example the special small copper pots for the cooking of jam and marmalade (jam pots/marmalade pots). In our online-shop at Gourmet-Web.com you can find these by the producers Pierre Vergnes and Baumalu.