The phrase "living like a god in France" has become nearly proverbial. People who place value on good food and table culture can eat à la française wherever they are. Fine cookware, such as copper pots, are put on the table directly from the cooktop; the table itself is lain with fitting tableware and cutlery. Nothing about that is pretentious - rather, it allows the guests to enjoy the authentic atmosphere and to get more than just a whiff of genuine French ambience.
The cutlery of Au Nain from Thiers and especially their rustic-style knives are eating utensils well-suited for everyday use. The range "Prince Gastronome" fulfils all requirements for durable, traditional and simultaneously timeless tableware. Alongside knives, forks and spoons, the range offers an abundance of various practical and elegant utensils which give the table a rustic and down-to-earth look. The gigots, roast beefs and piglings, prepared on the chopping block and braised in the oven, are put on the table in their full splendour. Here, the meat is cut into pieces with a carving set and distributed in portions. The range "Ideal" offers both items of the set separately: the carving knife with a blade of 20cm and/or the carving fork.
The history of cutlery in the western world
The spoon came into being first - it has been used for eating and trinking since prehistoric times. Its shape is evocative of a hand scooping up water or grain. The bowl and the handle, often of a different material, form a unified whole. Until the 19th century the mankind has used predominately carved wooden or bone spoons. While meals were eaten out of bowls, knives were usually handy for dealing with big chunks. Metal spoons were first produced as early as the 15th century: a hard-working spoonmaker managed to manufacture 30 to 40 iron spoons. The later spoons of sheet metal were much easier and faster to produce.
The unitary cutlery that we know today first appeared in bourgeois households in the 19th century. Before that, sets of matchng forks and knives were accompanied by separate spoons, often richly ornamented or engraved. Every single silve spoons was seen as a small treasure. It was also common for people to carry their knives and spoons with them everywhere, be it taking them on journeys or for everyday use. Even the Romans already used knives, but ate with their fingers, as is still a custom in many cultures of the world.
The fork as the last addition to the family had it rough in the beginning. The clergy of the Middle Ages saw in the pronged utensil a diabolic symbol and strived to ban it form the tables of pious people. At the same time, small forks with 2 to 4 prongs have existed since late antiquity. Italy incorporated the utensil into the common three-piece set first; the French started mannerly skewering their food in the 17th century - the Germans followed suit soon after.
Knives, Forks, and Spoons in all their diversity
Baby cutlery sets often consist of a blunt fork and a pusher for a knife. That way, children also learn proper table manners. If you appreciate a sophisticatedly arranged table, there's innumerable variations of knives, spoons and forks to choose from. There is a fitting utensil for every purpose with a certain, albeit constantly varying, form. For cutlery is subject to fashion in design and material just as much as glassware or tableware is. And even though te classic forms are preferred in many households, very few people still eat using real silverware. Rarer still are small gold-plated spoons used in the past to stir tea or mocha.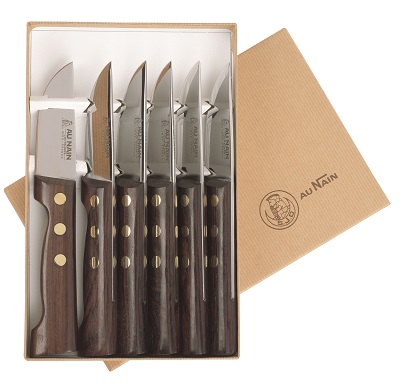 Spoons especially come in a wide variety of shapes and sizes: dessert spoons, egg spoons and teaspoons belong to the most common utensils which, together with gravy spoons, vegetable spoons and salad servers, form a complete cutlery drawer. In addition to those, such utensils as skimmers and meatball spoons, ladles, cooking and tasting spoons, etc. also find their use in the kitchen. Further models are used for dealing with honey, sugar, or caviar. With forks, it is a very similar story: besides the usual dinner fork, an average citizen can often discern between fish forks and pastry forks. The 2-pronged meat fork is used in the kitchen, while the large carving fork belongs on the table. Aside from those, there are also dessert forks, 3-pronged potato forks, cold cut forks and many more items on offer.
Conoisseurs pay the most attention to knives when buying cutlery, since knives certainly do the most work in the kitchen and at the table. Passionate and experienced manufacturers of high-quality knives, such as Au Nain from France, take that into account and go an extra mile when making their first-class cutting tools. These premium knives, recognised and appraised by both the professionals and the cooking afficionados, fit in any kitchen and on any table. Be it dinner knives, steak, fish, pastry or carving knives, the sharp blades from Thiers in the Auvergne make cooking and eating a pleasure.
Function, style and elegance
When choosing cutlery, the criteria differ immensely. For special occasions, there are the ranges "Tendance" and "Prestige", created by Henri Lamouroux. Since 1920, excellent knives, spoons, and forks have been manufactured under this name. This branch of the well-known knifemaker Au Nain offers silver-plated, splendid cutlery with lush floral design called "Coup de Coeur".
The range "Prince Gastronome" by Au Nain is absolutely suitable for everyday use while also providing the table with a certain flair. The gleaming stainless steel baldes and the warm wooden colour of the palisander handles make a stylish appearance. The handles with 3 rivets are reminiscent of the classic, nostalgic bistro cutlery while looking more rustic and valuable at the same time. Tablespoons, forks, dinner or steak knives can be acquired separately or in sets. Consisting of a chef's knife and a carving fork, the carving set is a looker in any kitchen and on any table. The bread knife with a serrated blade, hard to beat in its pure beauty and funtionality, cuts even oven-fresh bread loafs into neat slices.
A genuine all-rounder among knives is the attractive, stable and heavy farmer's knife, fitted with an especially sturdy handle and a 21cm-long blade. If you have a weakness for outstanding knives, you'll love the farmer's knife. The 33 and 40cm-long blades of the fish knives also possess an impeccable cutting technique. They both look like the farmer's knife with a longer, serrated blade, and carve salmon medallions as well as tuna steaks comme il faut without any extra pressure.
The "Le P'tit Boucher" has also proven itself an indispensable helper. This type of knife is very popular in France, and its name - "The little butcher" - reveals the purpose of this steak knife which looks like the butchers' knives of old. Its prominent characteristics are the sturdy kingwood handle and the wide, short blade. Many customers also purchase the wholly stainless steel design knife "Cuisinartis", available in a set of 6 with a classy wooden box. Other steak knives sold in sets of 6 are "Le Thiers Orfèvre" with mirror-like polished black handles as well as the steak knives with palisander handles from the range "Prince Gastronome".
All these dashing products are marketed by Au Nain under the label "Esprit de Thiers" - a reference to the 600-year-long tradition of knifemaking on the banks of the river Durolle. The town Thiers in the Auvergne is the stronghold of this handcraft in France. Experience, quality and innovation are the spirit of Au Nain and "Esprit de Thiers"