Copper jam pot
Page 1 of 1
Items 1 - 11 of 11
---
Copper jam pots "Cuivres de France" by Baumalu
Since 10 years we work together as a close partner with the French copper cookware manufacturer Baumalu, because our experience confirms that this manufacturer offers the highest quality at reasonable prices.

Here we present you our assortment of jam pots made of 100% copper.

- Copper jam pots are perfect for all cooker types, except induction.

- For induction cookers you need an adapter plate, which you will also find in our shop.

- We recommend the thick-walled jam pots to make the best jams and desserts.

- So that your food does not overcook, we recommend filling the pot to about two thirds of the volume.

- The cast iron handles are more stable than steel handles.
 
Céline cooks strawberry jam:
About copper jam pots
The openings of jam pots have a much larger diameter than the bottom of the pot. As a result, water evaporates more quickly when cooking jam and the precious ingredients and, above all, the incomparable taste of the ripe fruits are preserved. All copper jam pots by Baumalu are made of pure copper and are not tin-plated. The handles consist of cast iron or steel since cast iron or steel does not warm up as quickly as copper.

Please note that copper pots are not suitable for induction cookers because copper is unmagnetic.
This is the reason why we offer you an adapter plate with a diameter of 20 cm or 26 cm for induction cookers.
In the copper pots by Baumalu, you can warm up chopped fruit very quickly. If you would like to spoil your loved ones with freshly made jam but do not have enough space to store many jars, small jam pots are perfectly suitable for you.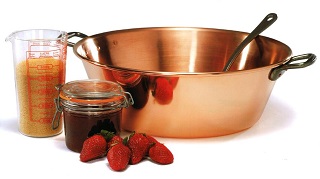 If you have a normal electric cooker or a ceramic glass cooktop, thick-walled copper pots are more suitable for cooking jam: the thick bottom of the pot ensures that it stands securely on the hotplate. While the bottom of thin-walled pots can deform slightly when used on normal cookers owing to the excellent heat conductivity, thick-walled pots stand more firmly. Thanks to their slightly nubby surface structure, hammered copper pots look incredibly beautiful. In addition, this structure ensures a higher stability and makes the surface less prone to small scratches.

Those who would like to preserve the fruity taste of the seasons should cook their jam in a copper pot just like their grandmothers did. Since jam can be cooked very easily in a pure copper pot by Baumalu, more and more people rediscover this delicious and natural taste.
In order to cook tasty jam or jelly, you need ripe fruit of high quality. In contrast to factory-made jam which is sweetened with cheap corn glucose, we use traditional granulated sugar or cane sugar. The natural pectin that is contained in the fruit is sufficient for jellying since the fruit mass is more concentrated and not as liquid anymore.
Céline cooks orange jelly: